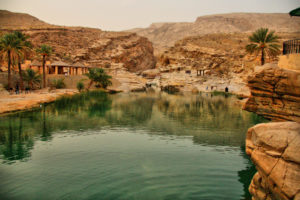 If you want to see real OASIS in Sultanate of Oman , then you must Add Wadi Bani Khalid in your list while visiting Oman,
Oman is a blend of Natural Beauty and many famous wadies are there to be cited
and Wadi Bak Khalid is one of the beautiful wadies.
Wadi Bani Khalid is also know as Wadi Hawer
It is located in the Al Sharqiah region of Oman – at a distance of Approx 250 Kms from the Capital Muscat City. ( Approx 3 Hours Travelling from Muscat to Wadi Bani Khalid).
You can reach there by Saloon car also , 4×4 vehicle is not necessary.
After reaching there and you have to go by walk from Parking area to the main wadi bani Khalid Pools & Cave point.
Wadi Pools have Greenish Water , you can swim there if you are a good swimmer otherwise don't take your life at risk because these pools are very deep and banks are very slippery due smooth rocky and stones.
Pools of Wadi bani Khalid are always filled with water during the whole year unlike other some wadies of oman which are filled by water during only in rainy days and season.
After a bit hike You can find the real beauty of Wadi Bani Khalid as deep as you go into the Wadi.
If you go little further inside the wadi you can find a small waterfall also from where water flows to wadi Green Pools.
Weather of Wadi Bani remains cool during early morning and evening time because this valley is surrounded by close mountains at noon time weather of this place becomes bit Hot
Best time to visit this place is between winter or cool season i.e November to March or when ever there is a cloudy weather .
It is advised not to visit during Hot and Humid days.
How to reach Wadi Bani Khalid ?
Location map